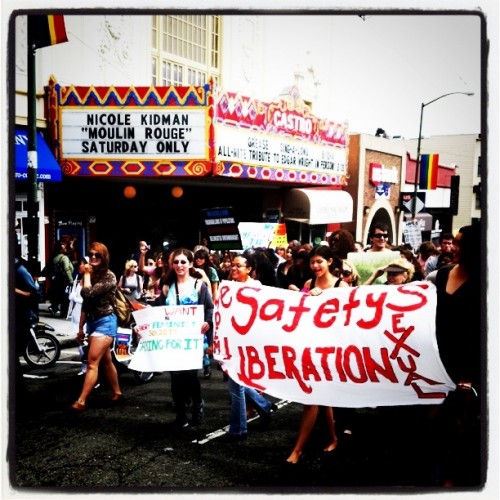 Being sequestered up here in the valley, I was unable to attend Slutwalk San Francisco, which happened today. I would say I was there in spirit, but that's just a little too Victorian for me; my tables don't knock unless I'm knocking them.
As of this writing, there's no Tweets at all about San Francisco at the #slutwalk hashtag. A "Slutwalk" text search on Flickr for recent shots gets me a few images; Steve Rhodes took a couple, of which one is above. One thing the Flickr search does tell me is that Helsinki's Slutwalk, also held today, looks like it f*ckin' rocked.
Where there's some social networking activity is at the SF Slutwalk Facebook page, where there are positive comments and a few interesting notes from some of the the organizers. Might wanna keep an eye on SF Slutwalk's Twitter account, too. Check it out!
As for the dearth of Tweets and pics on Flickr, I think it's a reasonable assumption that the attendees decided to socialize at Femina Potens's Sizzle! — including a talk by the brave and badass adult star Hollie Stevens about her battle with cancer —  instead of fanatically Tweeting and uploading their digital photos so us mopes from outta town could follow their activities. Bummer for us but awesome for them.
In the meantime, if you weren't there, other than the Facebook page linked above you'll (mostly) have to be satisfied with stuff written before it happened. Violet wrote an earlier TN post about it, and her piece at Acceler8or that she refers to in that post addresses important splits in women's communities and feminist history for which the Slutwalk movement is a lightning rod. You can also check out the Slutwalk SFBay site and join me in cheering Slutwalk's activism. You can also read Arial Clark's great essay about why she took her adolescent sons to Slutwalk, or head over to SFGate for Katie J.M. Baker's article about it, or see the comment-fight over at Refinery29, where there's an assault on the comments by some hateful slut-shaming douchebags who then try to talk themselves out of looking like fucktards, and fail to do so largely because of the efforts of other more educated and eloquent commentators who support Slutwalk's principles and explain them with patience and grace. Bravo!
And if you were, there, comment! We'd love to hear about it. Cheers for everyone who participated.