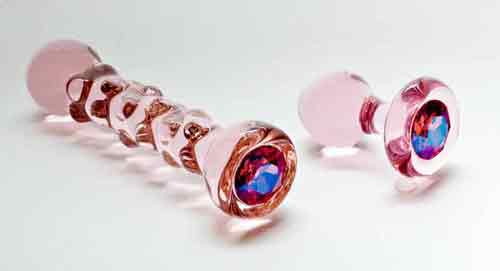 Sometimes I'm sitting at my desk and I run across something online that makes me shoot side-eyes around my office, as if to say to my printer, is this for real? Considering that the printer is mine, we know it has seen some things it probably hopes are not real, or perhaps even wants to unsee, especially because it doubles as a scanner. But the Crystal Causes $12,000 sex toy giveaway is one of those things that kind of stopped me in my tracks, seeking a witness to confirm that yes, this organization is actually holding a sex-positive fundraiser in which they're giving away twelve very adult prize baskets, each worth in excess of $1,000.
Read how to enter – there are many ways, and you can enter as many times as you like (insert double entendre, twice). Donate to one of the causes, or support the fundraiser with a blog post, Tweet, or Facebook share, and you're in the running – the deadline is this July 31. Donations range from $8-$50, and each donation counts as a separate entry with which you can enter multiple times. And yes – you can donate anonymously.
The list of charities include Services & Advocacy for GLBT Elders (SAGE), Center For Sex and Culture (CSC), Helping Individual Prostitutes Survive (HIPS), the incredible Advocates For Informed Choice (AIC), Center for Sexual Pleasure and Health (CSPH), Jiz Lee's Karma Pervs and the St. James Infirmary, a clinic that provides healthcare and social services for sex workers.
The incredible gift baskets each include a LOT of high-end sex toys, sex accessories, all kinds of treats, a VOD card, a ruler and 3-month membership to Kink Academy, and much more.
Crystal Delights, in case you're wondering, is a sex toy maker whose gorgeous Swaroski-adorned, handmade, eco-friendly glass (Pyrex) products are body-safe and really fabulous. They are very much worth having, these sleek boutique toys. The company does fund-raising through their Crystal Causes fairly regularly, and the company itself has a really interesting backstory:
Virtually About LLC began in 2008 as a result of a successful line of digital toys in the virtual world of Second Life. Out of the "Crystal Delights" virtual adult toy product line, the idea grew to create a real-life "Crystal Delights" line. Two years later the first real life adult sex toy, the Crystal Delights Anal Plug was created. From there, fans and passionate creativity inspired new offerings like wands, dildos and, of course new plugs.
Don't wait! It ends soon, and the charities are really, really good ones!
* Note: this blog post is voluntary editorial on my part, and I in no way want to be considered to win a basket.