Last month, we launched The Fast And Easy Book Club – our first main selection for discussion was Anne Rice's Beauty's Punishment (writing as A. N. Roquelaure). Now we've come full circle – but before we introduce June's smutty selection(s) and give away five copies of the next main Fast And Easy selection, we'd love to hear what you thought about this classic.
Anne Rice's Beauty series dog-ears a particular time in my life. In my late teens, I wound up bound to a beau who was not sexually adventurous. (That is the nicest way I can put this. I believe he was frigid.) Whenever I suggested anything even remotely to the left of vanilla, he blanched and made me promise never to discuss the topic again.
Let me say that this was pre-internet (yes, I grew up in the age of the dinosaurs). So I didn't know there were other kinky people out there. People who wanted to be tied down – or do the tying – people who wouldn't start stammering if I confessed to craving to be gagged or spanked or punished or… well, you get the Polaroid.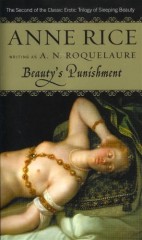 When I quite accidentally discovered Anne Rice's Beauty books, I felt as if I'd come home. (Or come in a parking lot, because that's exactly what happened, outside the bookstore.) The fact that Ms. Rice had written such a risque trilogy—and that the books were prominently on display at my local bookstore – made me feel safe about my own desires.
Rereading Beauty's Punishment reminded me of my drama-filled life near the Santa Monica pier – in a sandcastle (or rather townhouse), which I fled with my own Prince.
But now's the time to discuss how Beauty's Punishment made you feel. Answer one, several or all of the questions in the comments of this post, or email them in and we'll post them on your behalf:
What was the most memorable – your favorite – sex scene in BP?
Would you like to see BP made into a film? Who would you cast?
How did Beauty change from the beginning of the book to the end?
What do you think Anne Rice does with erotica that is missing from other erotica?
What makes the characters in BP believable – or not?
Did BP make you uncomfortable at any point? Did the book make you aware of some new aspect of your sexuality that you were not aware of previously?
Would you be inspired to read the first of the series (if you skipped right to the second) or to go on to the third?
Are there scenarios you'd like to try out with a lover that you hadn't considered before?
Do you have any questions you'd like to ask other readers?
For me, discovering The Beauty Books was like being released. Odd that a series so deeply entrenched in bondage could make me feel so free.