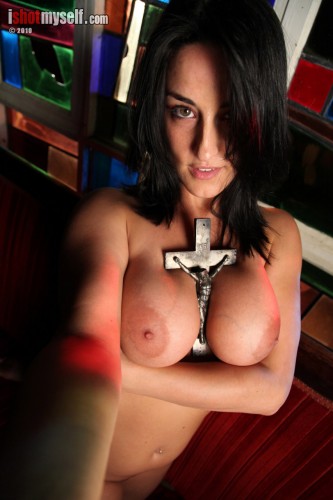 Imagine the timing: the new gallery from women-run Australian self-portrait porn site I Shot Myself takes place in a church. With a very beautiful girl. Aussie girl Audrey calls her set "sanctified" – it may offend people who don't like seeing religious paraphernalia used in a sexual context, yet the colors and poses are fantastic.
Here are my favorite rapture Tweets from Friday: @JannaZittrer, @trelvix, @RaptureHelpDesk, @startabuzz, @Oatmeal, @mayjah, @thedayhascome, @vaughanbell, @MsMaggieMayhem, @Mike_FTW – and while not a LOL, you may like mine, about atheists and sex.
And – bizarrely, there's more. Don't miss Rachel Kramer Bussel's feature of rapture erotica by Angela Caperton: from the anthology Orgsamic, here's Rapture by Angela Caperton.
Leave it to me to be the one that gets rapture porn in their inbox. The gallery of Audrey is after the jump.
UPDATE: This rapture is sooooo boring. But – I just found out – until midnight we can get more hot rapture-ish erotica because the Circlet Press anthology of end-of-the-world erotic science fiction, Apocalypse Sex, is on sale for one cent. Click here for a free sample story. Sci-fi sex in the face of doomsday, hell yeah!