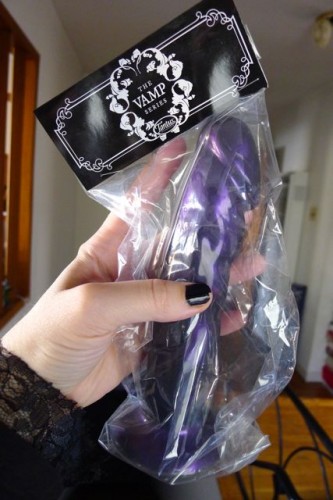 Yesterday woman-run silicone sex toy manufacturer Tantus surprised me with a mystery package. Inside was a really beautiful silicone dildo: the Dark Vamp ($39.99). I was impressed on the spot: deep royal purple with a pearly sheen, swirled with glossy black in a very attractive realistic shape.
I opened the box and was instantly smiling. And then I read the accompanying letter. I nearly cried.
Kindly, they stated up front that they are a Tinynibbles fan. The letter went on to explain that the Dark Vamp has been created as a limited edition item as a fundraiser for their Relay For Life* team. 100% of the proceeds will go to the American Cancer Society, and "Team Tantus" will be participating.
It also revealed some very intense motivation. As someone who has a friend recovering from a breast cancer procedure, and am watching Hollie Stevens go into a similar battle, this section hit me like a ton of bricks:
(Dear Violet… ) I hope you will consider a review of the Dark Vamp; for the staff here at Tantus this is a very personal effort. Over half of us have had a loved one with cancer, or have been diagnosed. For a small company like ours, this is a staggering percentage. I myself have a daughter, age nine, who is a survivor, and I can personally attest that the support I received during her treatment was invaluable. She's healthy now, and looks forward to a possible career in science, because she "loves technology." I've been told that it's an odd thing to be selling dildos the be raising money for cancer patients – but this is a good cause, and I'm really thankful to have an employer that's willing to get involved.
I love getting sex toy gifts – I don't think I'm stand-out strange for saying so, either. But I seldom, if ever, do standard sex toy reviews for reasons of personal privacy, and reader transparency. So while this isn't "one of those" sex toy reviews, I do have it out of the plastic and next to the monitor as I write this. I am absolutely certain that a tryout-style review would not be necessary, as this bad boy looks certain to perform as promised.
I don't usually say that you *should* buy anything. If you're interested in picking up a high quality toy and see every cent of the (low) price go to help people with cancer, then you really should buy a Dark Vamp.
I'll also add that if you're not familiar with Tantus, they have done more to raise awareness about sex toy safety, model best practices with safe and sustainable business practices, and pushing the adult industry toward using nontoxic materials than anyone knows.
* Relay For Life is a 24-hour 'marathon.' More info here.
Update: One hour after pressing 'publish' I found out that someone I know has just lost his long battle with cancer – today. I don't understand the coincidences of life. I had the pleasure of meeting and hanging out with Derek K. Miller (Penmachine) at Gnomedex last August. He came and sat with me after my talk, just to meet and say hi. He was made of kindness, humor, and goodness. I'm sad I won't get to see him again.