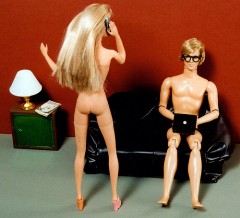 As many of you know, I'm a tech columnist on CBS Interactive's blog Tech Broiler. This week we're celebrating the 20th anniversary of ZDNet, which is a little nuts. A tech site celebrating decades of anything? It's a nice feeling at a time when AOL/HuffPo is throwing great writers and superb tech blogs out with the trash. (IMO: they'll pay for their stupidity eventually.)
Anyway, for the 20th, the guys at ZDNet went overboard and decided to do a huge set of features across all the blogs. We all wrote something fun and 1991 tech flavored. I went the extra mile and interviewed people who were actually having sexual experiences with computers back then – and did I get some stories!
I decided to have some fun and write a piece as if I was a total anti-porn and anti-sex prude from 1991. I've read enough "omg there's porn on the interweeeeebs that will eat your baaaaabies" articles on sites like Guardian UK and Fox News and more to last a lifetime, so thought it would be fun to give their tired old schticks a kick in the shins. Brace yourself for the shock and horror of…
PORN SHOCKER! Seedy UseNet and BBS Red Light Districts Deliver Filth
It's every decent person's complete nightmare.

What if something as innocent and wholesome as your television set delivered unmetered filth into your very own home at the click of a button?

Surely this can't be happening today in 1991 – but the scourge of pornography knows no time for civility.

Hold on to your normal life, and get ready to protect your children from the menace of pornographic stories and images that are coming out of ordinary computers – at this very moment.

That's right: from perverts in raincoats to orgies and the kind of sickness found in so-called "Adult Book Stores" – it can all be found by anyone with access to a Computer Center or a cheap copy of Computer Shopper Magazine.

BBS and UseNet Porno Shocker

"John" was just like any other college student with a bright future. Everything about his life was normal, until one day through the course of his work-study job in the college Computer Center, he had a taste of the forbidden fruit. (…read more, zdnet.com)
VB note: I love how one commenter totally didn't get it and thought it was real! Maybe I faked anti-porn sensationalism a little too well… :/
#
Image by photosur.