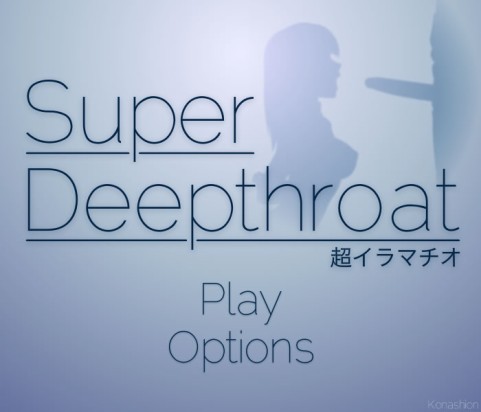 Leave it to me to tell you that The Blowjob Game (aka Konashion's – Super Deepthroat) is really fun. And damn hot. I've been playing it for about two weeks now. (I WON!) It is a very simple game, as the best sex games often are; this one is well-made and super-easy to play. You can make it a little more complex if you want; Super Deepthroat has a vast and growing community of mods. Let me explain.
Visit Konashion's blog and download the .swf. Drag the file into an open browser window and let it take over. Click Options to select preferences and modifications – or just start playing. Screencaps of the various available menus are in the gallery below. Use your cursor to move her head back and forth across the screen, and have fun. Note the key commands for fun things like swallowing, ejaculation (male) and "Bukkake Mode" (Beta!)
The best things about this game, besides that it exists? At the moment I'm just happy there is no way she can end up on "porn wikileaks." And no – she can't be killed or harmed. The community and mods this game has grown is impressive, as seen in the Super Deepthroat forums. Mods include different backgrounds (such as a crowd of onlookers or distant planets), different hair, different skin colors, tattoos and facial piercings, bondage accessories like collars, chains and rope harnesses and much more.
There is even a hair archive wiki. I was so enthralled by the creative mods and users' interest in making her into their favorite Suicide Girl, Erin from the Esurance commercials, or Jessica Rabbit (though most mods are for Hentai and cosplay characters) that I put together a small sample gallery after the jump.


Thanks, Juliette!