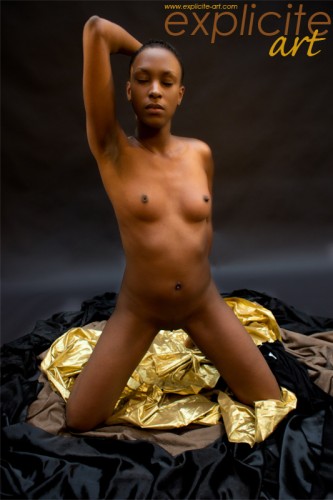 I can't even begin to say how happy I am that I discovered French porn site Explicite Arte: I found them back in October, 2009 right about the same time that I found (American site) Juliland. Explicite is super raunchy, yet also really tasteful – I am continually surprised at the quality of their shoots, the smiles and happiness in the scenes, and the utter beauty and refreshing diversity of their female models. The guys are pretty easy on the eyes, too.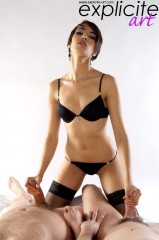 Here's newcomer Camille (featured above) in her debut – great energy with a female shooter behind the camera; part two gets more explicit. Freckled, pigtailed Lilou uses a Mystic Wand with her lucky man friend Rico. Turns out, Rico gets around, enjoying anal play with blonde Niky (the toy they're using is the exquisite Lelo Iris). Two boys suffer – not really – at the hands of my favorite girl in the world right now, Jasmine Arabia (seen Alpine skiing at right).
Anyway, if you're a TinyNibbles regular then you're used to my praise for Explicite. So, let me pair this eye candy post with a truly great installment of an advice column I found a few nights ago while I was scanning sex news feeds. This is really awesome: student newspaper, University of Wisconsin's The Daily Cardinal has one hell of a fiery sex columnist on their staff. I was so excited when I realized this young lady used column space for a whipsmart face-off take-down of the paper's angry anti-porn letter writers! Cheers! Applause!

In defense of porn: The Dirty Bird-sex and the student body by Erica Andrist is just the thing to read when you want a massive case of the feel-goods. Basically, she very nicely explains to people who don't know anything about porn or porn viewing but who think they know everything about how wrong and sick it is, that they should just STFU. Also, responding concisely to all-caps trolls in your school paper is just the mark of a badass. I am in love.
Snip from the middle:
PORN IS INHERENTLY DEGRADING TO WOMEN!!!!
—M.S.

Interesting. I think it's degrading to women to say porn is inherently degrading to women. Of course, not all women choose porn out of desire or free agency, and especially during Sexual Assault Awareness Month, we should be cognizant of this fact and the institutional factors that make it so. But many women consume and/or participate in porn actively and frequently, with enjoyment and discerning ethics.

Discounting our participation erases our sexual agency and restricts our free sexual expression.

I also think it's degrading to read all these e-mails assuming last week's letter applies to a delicate ladyflower letter-writer and her big rapey porn-watching boyfriend. Because feminism is best advanced and defended with a healthy dose of gender stereotyping and heteronormativity, right?

– – – – – – – –

[Last week's] column telling "PORN" that [they] should just keep quiet about [their] boyfriend's disgusting pornography collection was a disgrace to women in relationships. You basically said that [they] should keep [their] mouth shut while [their] boyfriend masturbates to material that requires the mistreatment and degradation of women. You said that [PORN] can set boundaries in [their] relationship, but there's no way [to] set boundaries if you can't talk about it.
—M.C.

Let's examine what the letter-writer said last week, shall we? In PORN's own words, "I found some porn [on my bf's computer]. I didn't like it at all … this particular material was such a turnoff." That gives no indication whatsoever about kind of material PORN found, so why don't we cut the assumptions about it, eh? (…read the rest, dailycardinal.com)