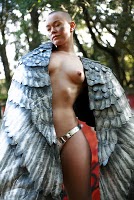 Axe/Lynx is the man-smell company known for ads whose overt sexuality gets them banned, criticized, admired and generally liked on this blog for being sexually playful.
I like them. I also like videos of cats playing piano, and .gifs of cats playing bass guitar with rainbow backgrounds. This information is all very, very important.
I'm just giving you context. The newest Axe (Lynx in the UK) ads have the theme of "angels fallen to Earth" and, having caught wind of dudes who've doused themselves with said chemical cocktail, smash their halos on the ground so they can get a piece of vulnerable man-ass.
The star is Kelly Brook. Here's the foundation ad:
Here's the part that's cool. For a publicity stunt, Axe/Lynx did an augmented reality happening at Victoria Station in Central London where they set ads on the ground which ended up being set arenas where passers-by could interact (via monitors) with the Fallen Angel herself. They filmed the surprised reactions, and the result is a fun situationalist performance art video that will make my flash mob friends nod with appreciation:
All Axe/Lynx would need to do for alt sex culture is make the angel Jiz Lee, and they'd have a cult hit. (Right now Jiz is doing a fundraiser based on Jiz's Secret Angel Karma Pervs fundraiser for Japan relief.)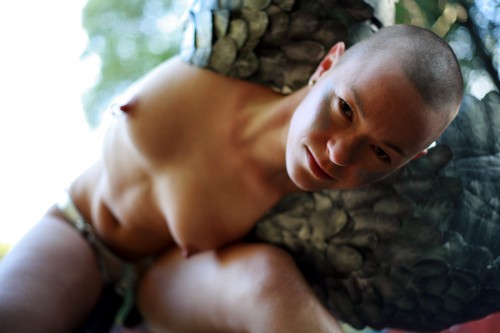 FYI: Here is the Kelly Brook behind the scenes video:
Main video via Medibistro, whose writeup was so incomprehensible it surprised me.