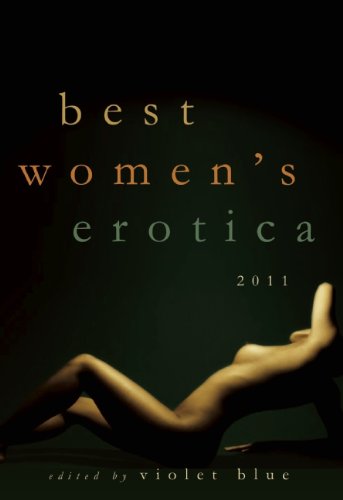 Examiner.com's Modern Love Examiner just reviewed two of my erotica collections, and the results are a GREAT combination of flustered and loving it! They loved Best Women's Erotica 2011, which just came out, and Best of the Best Women's Erotica – a stealth collection that got little notice but is truly one of my favorite collections.
Being the editor of the Best Women's Erotica series since 2006 has been life-changing, sexy, inspiring, amazing. So much desire, so many stories, and a naughty thrill every time I check my email for more submissions. I've actually read all the submissions in Best of the Best aloud to my lovers, with the best and funnest results.
Every year I cull from upward of three hundred stories for each volume. I boil it down to around twenty stories for each collection, and it's never been easy, though it's always been yummy and filled me with passion for the craft of these incredible authors. The result of choosing the very best – the ones I couldn't ever get out of my head, the ones that aroused almost dangerously fast, like a match to gasoline – are here.
Examiner writes,
Best of Best 2 is at times raw, powerful and passionate, with settings that are as opulent and taboo breaking as the sex. In 'Mercy,' A.D.R Forte leads us down a threesome romp between co-workers that culminate in crossed lines. Imagine work-place harassment meets romance and you'll have an idea about what this tightly written story is about. 'Becky' by Kay Jaybee is another workplace meets kinky tale that will make HR managers squirm. In this case, the boss knows just how to force his subordinates into submission. It's the stuff of nightmares or wet dreams, depending on your fetish. Finally, 'The Bitch in His Head,' by Janne Lewis puts a sexy spin on what happens when a subordinate surprises her boss by taking control when he least expects it, with the use of restraints and other tools.

There's a whole lotta somatic stimuli in these stories too. Teresa Noelle Roberts' tale, Voice of an Angel is a acoustically and sensually rich story about the sex that goes on behind the curtain when the man's voice is like silk and the woman's response is inevitable. And Just Watch Me, Rodin, by Cate Robertson tells the story of what happens when a nude model fulfills her fantasies as much as those of the painter who has hired her services.

My favorite in this collection is K. L. Gillespie's story, Another Assignation with Charles Bonnet. Quite literally, this is a 'scent-ually' potent and tender account of a blind woman's one chance to 'see.'

"Cinnamon. Sweat. Leather. Tobacco. A unique aroma that announces his presence with a bang. I breathe him in deeply, trapping every drop of his essence in my olfactory canal and savoring it slowly before committing it to memory," is how Gillespie introduces us to the leading lady's paradigm. We are brought into her invisible world, a place where scent and touch and sound create a visual masterpiece in the minds eye. When she's finally given the chance to meet her handsome stranger again, to bask in the memories of his scent, I didn't want the romance on the page or between the people to end. (…read more, examiner.com)
But that's not all. For the sake of front page real estate, I have dirty thoughts about Best Women's Erotica 2011 after the jump, along with an easy to use (free, embedded) online reader with my introduction and first story from the book. It's a tale by Louisa Harte that's full of ice cream and oral sex…
Best Women's Erotica 2011 is layered top to toe with explicit sex, hard and wet and mean and sweet, flowing around love, and fused with characters who finally feel like us. What women want: with no apologies.
A girl squeezed into a tight uniform has her first day on the job serving ice cream to workmen — with no small amount of irony (or arousal) about her presentation. A group of girls dare to see what it's like in the male-only arena of a triple-X movie theater.
A businesswoman orders spa service to her hotel room as a splurge, only to be confronted by two male masseuses who then compete to see who can give her the most physical pleasure to win the payment. A woman turns the humiliation of an ex-boyfriend exposing a naked picture of her to the world into her own private game.
There is so much more. I'm so proud to work with these outrageously talented authors. Many famous names here. Enjoy the adventures of their sexual heroines.
Click to go full screen, then adjust the font size so you can read my fierce intro "Melted" and the book's first story. I love this Amazon feature!