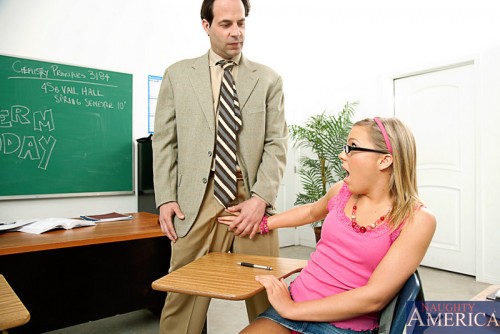 Recently I posted an eye candy collection that featured geek porn fave Lexi Belle in a college classroom scene: many liked the Lexi, but one person voiced distaste at the fantasy scenario itself. They did not like the fantasy of women trading sex for advancement. I respect that. In real life, I see it as both an embarrassment to everyone, and a short-sighted strategy by tech PR marketers. I frown on sex traded as nonconsensual leverage and the whole women-as-sexual-gatekeepers thing. However, if heterosexual classroom sex for better grades acted out by mainstream porn stars playing faux submissives offends you, this post is something you will want to skip. For a significant number of people, the co-ed classroom fantasy is a rich one. And it is no more than that: a fantasy which in this case is clearly enacted by professional porn performers for entertainment.
That said, I plundered galleries from Naughty Bookworms because I'm a fan of the fantasy, and an even bigger fan of girls with glasses. Yup, the glasses are fake here too, but hey, it's porn. It's like, there are no gay Scientologists. Don't tell Gail Dines, but porn is… well, not as real as she hopes, and its viewers are not as gullible as she is.
Videos are embedded after the jump, the images and videos are very explicit (all kinds of penetration and big natural… smiles).
* Victoria White with Christian (videos)
* Danica Dillon with Professor Bauer (videos)
* Nicole Ray with Otto Bauer (videos)
* Ally Kay with Prof John (videos)
* Cute redhead, no glasses: Marina Blue with Professor Banderas (videos)
* Lou Charmelle with Professor Addams (videos)
Extras: