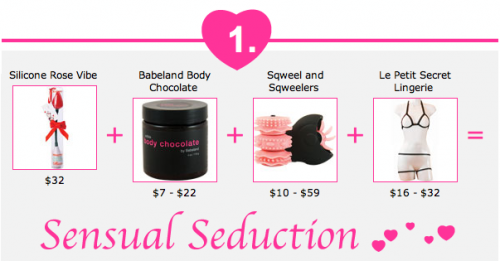 I have a great relationship with women-run sex toy retailer Babeland – they sponsor me, and never hesitate to jump into sex-positive activism with me. They even sent my cat a holiday gift (here's video of Alex vs. the catnip banana)!
I just discovered their pick-your-own-adventure Valentine's Day Romantic Gift Guide – and I think it's brilliant. Love it! Check it out, you'll see what I mean. Why can't more retailers do things like this? Smart.
While I was on the site, I saw these goodies I liked, some on sale:
* Easy to use design, and very very pretty breast jewelry – Lavish Nipple Clamps ($20).
* Whoever is picking out their lingerie is good: love the Pin-Up Panties ($26).
* I love Babeland's own massage candles ($6-14) so much, and could get addicted to the pricey Jimmyjane Afterglows ($29) – so I'm intrigued by the Lelo Massage Candles ($23.20). Everything else Lelo does is so nice. But I do think anything in Babeland's "love" scent is dreamy.
* Very affordable but high quality – Babeland's own anal beads ($9.99). Nice.
* Something I own and love is on sale, FYI: Ophoria Finger Vibe ($9.99). Unbelievably efficient, quiet, silicone and versatile.
* The Sex and Romance kit ($150) – looks fantastic.
* Guys love Tenga eggs ($8.50-$43). Period.