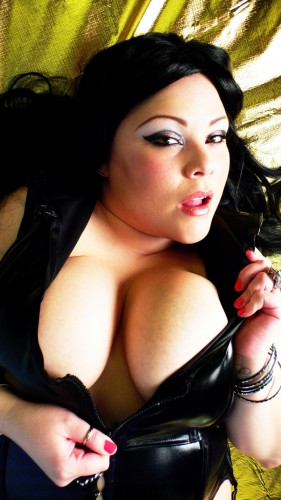 This weekend Courtney Trouble made me very happy by randomly sending me these sizzling photos she shot of April Flores for Trouble's site NoFauxxx and the release of Carlos Batts' new indie porn film, ARTCORE. Courtney knows how to make me smile. (Thank you!)
Carlos Batts makes truly original outsider porn films. His films are equal parts artistic vision, what turns the performers on (collaborative erotic conepts), and a defiant reaction to the mainstream porn industry's lack of original ideas and dearth of diversity. Another vibrant, necessary set of voices are being represented here that are continually overlooked by mainstream sex entertainment media and anti-porn pundits alike. Carlos and April, the team, have my undying support and admiration.
Courtney Trouble's review of ARTCORE is here (she is a performer in the film).
Here is the trailer for ARTCORE (description) – look for the rest of the April glamour photos Courtney sent me after the jump.
Here are Carlos Batts and April Flores talking about their work, in Las Vegas for the porn convention: