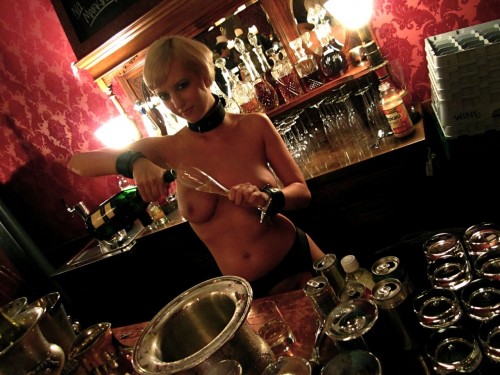 Last night I had the opportunity to attend a quarterly event for members of local, sex-positive feminist art gallery Femina Potens (Sponsored by the Queer Cultural Center with support from California Arts Council, San Francisco Arts Commission, the Zellerbach Foundation and Grants for the Arts, and individual donors). It was their Thin Line Between Art and Sex, a private party just for FP members. An evening of art, adults-only frolic and pure debauchery, it takes place in Kink.com's Armory within the set of its famed Upper Floor lushness. The event was filmed and broadcast live for Upper Floor members, who interacted live via chat with performers and attendees throughout the evening. All guests were in full formal attire, save for the naked models in heels and bondage accoutrements, occasionally walking by cradling laptops while engaging with the chatroom. It was like being in a movie, except of course it was real.
To see professional media from the previous Thin Line, this Upper Floor photo and video gallery gives quite a taste. Hopefully soon I'll find last night's media in Kink's gallery archives, and I'll post it as soon as Kink makes it live.
I have a gallery after the jump, starting from when I checked in with staff and monitors about the photo policy. You'll see some fab people, such as Jiz Lee, Jack Hammer, Cherry Torn (our lovely bartender), Twisted Monk, Suzanne Rachel Forbes, Bella Rossi (and her hot submissive husband), Madison Young (pregnant and absolutely radiant in a slate, floor-length evening gown), and many more. The evening was fun, filled with wonderful friends and warm conversation, punctuated by spanks and squeals, and it was tough to say good night.