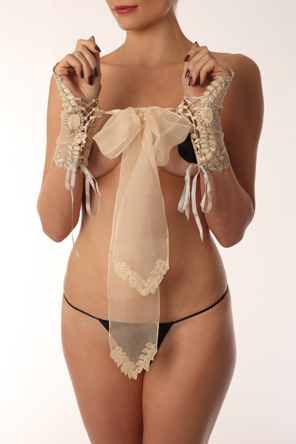 I felt a pang of solidarity when my friend Veronica expressed her disappointment that "Cyber Monday" was not, in fact, about cybersex.
Setting out to remedy this, I finished up my erotic holiday gift guide (a companion to the list, This Year's Top Hot Sex Books for Gifting, Coveting) and I think you'll be pleased. Or at least amused, and hopefully as filled with want for some of the gems on this list as I am.
I have had personal experience with all of the shops I link to, and these I personally recommend. The toy materials and lubricant ingredients are all body-safe, and if I have not owned the recommended item, I have owned and examined something similar from the maker.
A few tips for the erotic gift giver: Always make sure you have some inkling your gift will be well received. If she watched "Secretary" and thought it was gross, don't get her a Paul Seville paddle while hoping for the best. For first-time toys, always pick a small or medium before a large (unless you know a large is desired). First vibrators: best to get one with adjustable speeds, rather than on/off styles, so the user can decide what speed they like, rather than all or nothing. And, you know — do give these gifts in private.
Hot Toys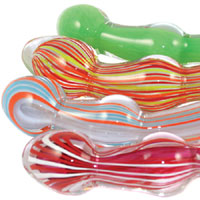 Candy Colored Glass Dildo ($90)
Once tried, glass sex toys are never forgotten: they are thought of lovingly and longingly. Warmed up (tap water only), they retain heat and provide the smoothest, firmest surface ever experienced. A treasure of a toy. The Candy's are beautiful, safe, and affordable.
Babeland
Toyfriend Rocket ($49)
These smart silicone toys get a standing ovation in design, price, style and function from this extremely critical reviewer. They've taken the qualities of bestselling "rocket" style vibes and made them body-safe, non-porous, sterilizable, adjustable and a great choice for first-time gift or toybox addition. Just fantastic.
Babeland
For Him: Tenga Eggs ($8)
I've blogged about these inexpensive masturbation toys for men many times, and the feedback I've gotten is unbelievable. Guys LOVE these eggs, and I've had many exclaim that they feel closer to a vagina or a real-life blowjob than any toy they've ever tried.
Babeland : Amazon
Ezra Silicone Plug (£65)
Exclusive to Coco DeMer UK, this 100% body-safe silicone plug is all kinds of gorgeous style combined with pure pleasure and smart function. It's made by Babes 'n Horny, whose website is a mess but whose products are super fabulous and carried by many discriminating toy stores.
Coco DeMer UK
Icicles Glass Plug ($36)
Smooth and firm makes for an incredible anal toy; the Icicles has a fantastic stay-put design and a handle at the flared base for maximum erotic play — or delightful torment.
Babeland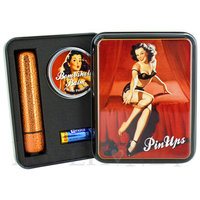 Pin Ups Glitter Bullet and Bombshell Balm Gift Set (£16.99)
A red glitter bullet vibe and the most adorable little set you'll ever see: this cute stocking stuffer says she's a pinup who deserves some A-1 girl time.
LoveHoney (UK)
Honeymoon In A Box ($32)
A gift for one that is actually a delicious gift for two. This kit is filled with brilliance, especially with the silicone Ophoria toys — a comfy cockring that buzzes the clit during penetration and a finger vibe that snugs between you to easily stimulate the clit, or makes a sleek and discreet, thin anal vibe.
Babeland
The Bunny Love Kit ($99)
The rabbit vibe is a much-loved toy by women everywhere for very good reasons; this kit is an indulgent, all-in-one treat complete with gift box. Smart choice if you're going for the rabbit, which is always a good choice.
Babeland
Lube Sampler Pack ($6)
I find these packs make fantastic gifts, and I love putting them in party gift bags. This selection contains all my top recommendations for toy-safe, condom-safe and body-safe lubricants, and give you a chance to try all the top shelf brands without having to get a whole bottle. Great for those who have allergies or sensitivity issues with lubes.
Babeland
Erotic Blindfolds
Blindfolds by Kiki De Montparnasse ($75-$195)
Four to choose from, the blindfolds at the De Montparnasse store are feminine, sly and tempting. Favorites are the Cat Eye, the Sleep/Fuck reversible in flowery romance script and the lace beaded.
Kiki De Montparnasse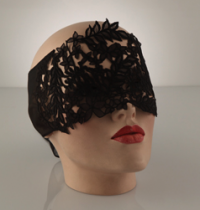 Black Floral Lace Blindfold (£75)
This stunning number by Stephanie Loungewear is really, really lusty.
Coco DeMer
Siri and Intima Blindfold Combo ($139)
In festive red and packed in a lovely holiday box, this luxury kit is ripe for holiday gift giving frolic. A red Lelo vibrator (rechargeable, sophisticated chip speed/pulse controller, ergonomic) pairs with a cleverly constructed red silk brocade blindfold, designed not to slip off at the crucial moments.
Babeland
Sexy Blindfolds for Every Occasion ($7.50-$239)
In my search for the best blindfold selection for this guide, nothing compared to Stockroom's blindfold selection quality, overall selection and pricing. Highly recommended if you want a little more than scarves or cheapo "boutique" fare, but don't want to break the piggy bank open for something you may only use once before the year is over.
Decadent Harnesses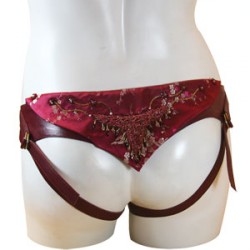 Shiri Zinn Burgundy Harness ($160)
My pick for sexiest harness of the season, and the one I want the most is a luxury lambskin in deepest red, embellished with hand-embroidered with glass beads and jewels. I've tried Zinn harnesses and they make your rear view… unforgettable.
Babeland
Terra Firma ($68.95)
This is the harness you want to have on hand all the time: the Terra Firma is a bestseller because it is perfect, practical, attractive and reliable. The straps never slip, the base cushions well, the black leather looks hot, and it's easy to get in and out of quick. Perfect.
Stockroom
Harnesses Galore ($26-$166)
The widest selection of quality harnesses this season is at Stockroom; I looked at everyone's offerings, and this is the place. Prices range from little to a lot, and styles from mild to extremely wild. The hot harness accessory I found was the Babes 'n Horny Me2 (£11.95, messy website alert), a clever little harness add-on so the wearer is penetrated simultaneously during thrusting.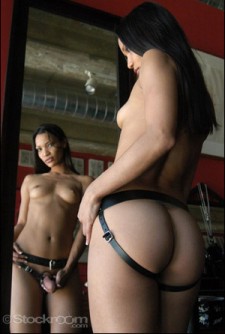 KinkLab Low Rise Harness ($89)
Stylish and distinctive, I think the Low Rise and its wide, soft leather straps says so much more about the wearer than any seen-it-in-porn harness you can buy: this is more like couture for strap-on wearers.
Stockroom
Artful Spanking and Swatting
Coco DeMer: Spanking (£6-£800)
Simply the finest selection of high-end spanking accessories to be found anywhere are in Coco DeMer UK's spanking section. Crystals, leather, horsehair, human hair — but my favorites are the old-fashioned rulers, emblazoned with "Teach Me A Lesson" and "Spank You Very Much." Imagine what their stocking will look like with this sticking out the top!
A Little A Lot Outrageous
Erotic Accessories: From Lingerie to Masks to Outrageous Hats to… (£25-£620)
The most inspiring spot for erotic accessories is the section in Coco DeMer UK's online accessory store. Outrageous, sweet, extremely naughty, sophisticated and divine.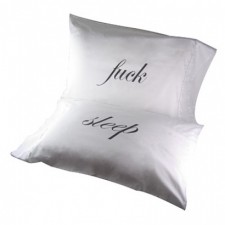 Sleep / Fuck Pillowcases by Kiki De Montparnasse ($225/pair)
Mon dieu these pillowcases are decadent. Soft cotton (threadcount unknown) white cases are embroidered in romantic script with Sleep on one side and Fuck on the other, so you can set the scene in discreet, shy, or sneaky silence.
Kiki De Montparnasse
Gloves by Kiki De Montparnasse ($395-$450)
I am dying for these gloves at Kiki De Montparnasse. I'm not a big glove person, but I could be, and I can see how unbearably erotic a stroke, grab or slap could be with the right gloves on. Opera-length lambskin fingerless and opera leather vintage-style button-ups, wow.
Kiki De Montparnasse
The Head-On Harness ($64)
This is a harness that is worn on the head and face; leather straps buckle around the back of the head and place a pad for a dildo over the wearer's mouth. Many cheap and flimsy versions are made of this fetish fantasy item; this one is built to perform and last. All genders and orientations.
Stockroom
Erotic Accessories by Paul Seville (Price n/a)
I have never, ever seen anything like the erotic accessories by Paul Seville in my entire life. Eyes Wide Shut had nothing on this. Download the .pdf catalog and get to the fainting couch, stat. You have to email to order — I have no idea for price, though Coco De Mer Uk carries some of his items — and I want it all. ALL.
Paul Seville (Flash site)
Pearl Restraints ($2400)
Think you've seen the height of decadence? Take a look at the restraints made from strings of pearls, and join me in thinking that ultra-rich celebs who blow their fortunes on stupid shit like vanity perfumes just don't know how to live.
Kiki De Montparnasse
Further suggestions: Gift recommendations from me for the Babeland blog (Disclosure: I was November's Babe of the Month, and Babeland is a TinyNibbles sponsor, however this post is unsolicited editorial content).