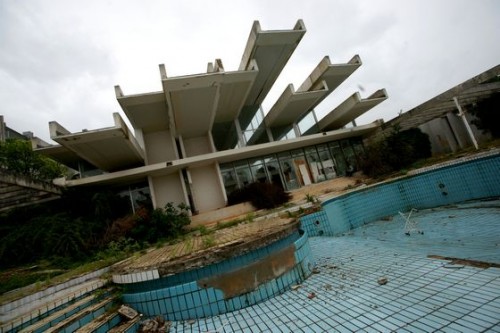 Penthouse founder Bob Guccione died yesterday (technically still today for me). It felt strange to read about it in the news right after it hit the internet's news sites, mostly because I thought about it as a pretty symbolic event. The magazine and its culture was a sentiment from before my time, and like its counterparts, still seems to me like something from a bygone era. An era that is in one concrete way, formally over. I guess it's so curious to me because it is so distant, but its attitudes still shape contemporary sex culture.
Anyway, it's late. In 1972, Bob Guccione put $45 million into opening the Penthouse Adriatic Club in (then-Communist) Yugoslavia. He staffed it with 70 American Penthouse Pets. Snip from Yugoslavian, which has original press releases:
(…) "We have detected a real formula in the struggle against the cold war" revealed Bob Guccione, editor and publisher of Penthouse – "The International Magazine for Men." The ingredients were described in an interview with Nedeljne informativne novine (NIN), the Belgrade weekly. A reasonable amount of Western capital, in this case 45 million dollars provided by Guiccione's publication, is combined with socialist financing and skills, in this case supplied by the Rijeka "Brodokomerc," and "the most exciting and exotic resort experience of all time" is constructed for Westerners vacationing in the East. On June 15 of this year the "grand opening" of just such a mutual enterprise, The Penthouse Adriatic, was celebrated on Krk, the largest island in the Adriatic Sea (410 square km.). The establishment was described in the June 1972 issue of Penthouse: "Richly located on the idyllic island of Krk, a few miles south of Trieste and directly opposite Venice, this mile-long Xanadu of glittering buildings will become for international cognoscenti a premier playground for summer and winter seasons alike." (…read more, yugoslavian.blogspot.com, image via)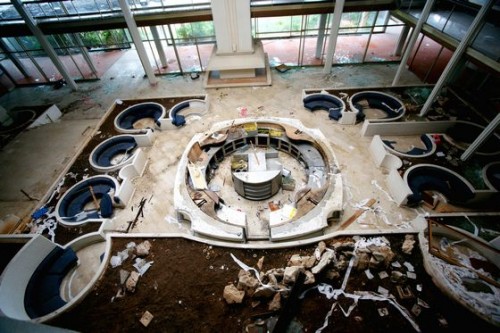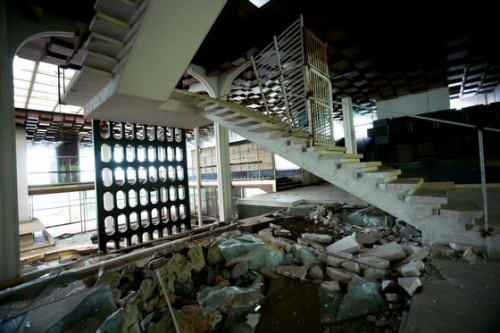 I can't seem to be able to find out what happened to the Penthouse Adriatic, or how long it has been left to decay. Twitter pal happosai sent me this large gallery of photos as it is today (images via), empty and abaondoned.