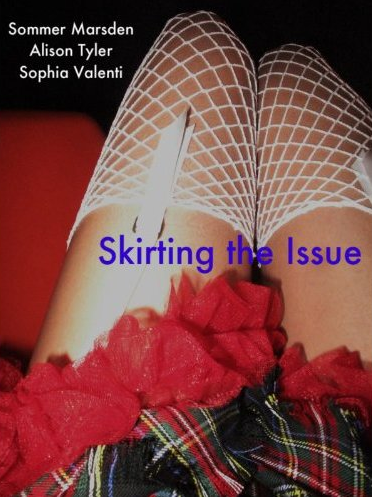 I haven't been offline; I've been really, really busy getting my empire in order! As you know, I've re-launched Techyum (with new writers, and we're looking for guests), this blog is getting souped up, VBSF (Violet Blue's San Francisco, my randomness) is back, and Art Machines is now set for re-launch prep (also seeking guest bloggers). In response to more anti-porn bias in mainstream media, I have a fun new post with a great video on Our Porn, Ourselves, which is still going strong despite the Facebook censorship setback. I may also be in a TLD "discussion" with Libya to get one of my domains back, but I can't officially comment on that — yet. On top of all this, my digital and audio press Digita Publications is happening. And we're about to get even more serious, with new books on the way.
Last night I did a fun feature on one of the Digita authors, Alison Tyler, and her prolific entries into digital self-publishing. I really can't explain just how much digital publishing is a cartel squeezed by the majors, and how important it is that us indies make, own and profit from the creation (and especially, the distribution) of our own work. Digital self-publishing is disruptive. Especially for sex and erotica. And I think it is the place where writers can be heroes again.
Anyway, kink up your Kindle (or purchase .PDFs for any device you want) with her hot collections:
Alison Tyler (Twitter) is a prolific, sharp editor, and a hell of a writer. She coined the phrase "kink your Kindle" and is one of the hottest erotica purveyors to follow on Twitter, as she often Tweets free short erotica stories from various very talented authors.

She has a growing catalog of explicit, inventive, steamy digital erotic fiction available direct as .PDFs, or on Kindle — giving readers a great way to give hardworking authors and editors more money than all the middlemen gutting out our profits — the routes inbetween us, and you. And don't forget — a .PDF can be read on anything now, including any phone with a web browser.

Best of all: digital self-publishing makes the world's hottest smut from the brightest minds like Tyler's totally affordable. And uncensorable. They are digital only.

Here are our handpicked highlights from Alison Tyler's brilliant, deliciously filthy, girl-powered dirty ouvre:

Skirting the Issue ($3.99 PDF : Kindle) features a trio of dirty stories all based on a common theme: The Catholic Schoolgirl Skirt. This collection includes spanking, anal sex, menage, girl-girl, bondage, voyeurism, and a whole lot of filthy fun.

Stocking Up ($3.99 PDF : Kindle) brings you three new stories by erotic writers Sophia Valenti, Sommer Marsden, and Alison Tyler. The 40-page, 9000-word antho features stockings as the theme.
Read the rest: Digita Publications Author Spotlight: Alison Tyler | digita publications.