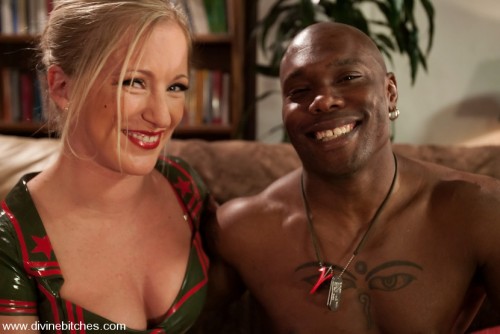 Meeting porn performers in real life is dodgy. It can be lame, sad, scary, exciting and awe-inspiring, arousing, fierce and inspiring, a curiosity of plastic surgery disaster… any number of experiences. Like meeting anyone who does a lot of on-camera work, it's seldom what you think it will be.
So when I was at the most recent Art of Restraint event at Femina Potens, I met one of Kink's male stars Jack Hammer. And I have to say that he is ALL THAT and a bag of delicious organic chips. Quietly powerful, smiley-sweet, open to all kinds of possibilities and eager to please the women (and men) at the gallery. I saw firsthand that he knows how to give a spanking.
I contacted Kink, and they helped me make Mr. Hammer this week's hot boy celeb with this special Jack Hammer model tour of his many… interests and talents.
You can also follow Jack Hammer on Twitter.
Image of Jack Hammer from this very explicit BDSM gallery.
Update: My pals from Open Invitation sent me these three exclusive pics of Jack from the film, yum yum: