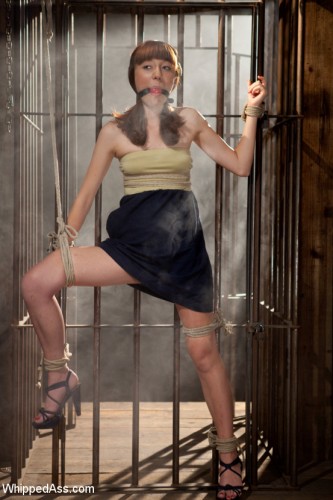 Hello everyone — it's Folsom sunday and I think I'm going to the fair in a little bit. Many TinyNibbles readers won't be attending, but I'd like to offer up a very kinky Sunday porn selection for your perusal. Image above from this girl-girl BDSM gallery.
All porn here is consensual, monitored for safety, and made by adults who participate in clearly defined and negotiated alternative sexual lifestyles (on-screen, and off).
Learn about it. Before we jump in, please do click on my Fetish Sex page, which I've updated and fluffed to help explain what a fetish is, why someone might enjoy their fetish (or fetishes) and other goodies like book recommendations and a couple of free audio podcasts.
First, vintage Bettie Paige spanking:
A sexy rubber video trailer from the Japanese movie Rubbers (look for the QR code on the site!) about a woman with a latex fetish and a bf who can't handle it, and a recommendation to visit Lust, Love and Latex; Alt.com and FetLife:
Brand new weekend galleries from Kink sites include: Upper Floor (Art + Sex night), beautiful girl on Kink Live, and Water Bondage.
After the jump, I found a selection of very hardcore videos from Kink which I can now embed — yay! BSDM and fetish mixed with sex, a great combination. Thier embedding feture is new, so let me know if you encounter any bugs I should know about.