I just got the press release, cut and pasted after the jump. I'd take anything about the rest of the industry as a hopeful grain of salt, with a dash of kudos to A&E for moving forward. Let's hope (A&E President) Phil Harvey's "focus on the customer" extends to dumping their stock of harmful numbing and shrinking creams as well. Notes about sex toy safety here.
Update: an employee at Adam and Eve scanned Phil Harvey's handwritten note about phthalates (left in her inbox last week) and emailed it to me — see + read it after the jump.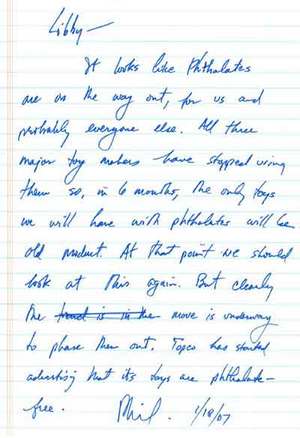 * * * * * * *
ADAM & EVE CEASES SALES ON TOYS CONTAING PHTHALATES
Hillsborough, NC Adam & Eve, the nation's number one choice for all things
erotic, announced today that it will cease selling products that contain
phthalates.
Phthalates, which are chemical compounds used in beauty products, vinyl
flooring and, yes, some sex toys, have been linked to damage of the liver,
kidneys, lungs and developing testes in studies with rodents.
Used since the 1920s, phthalates are most commonly found in 'jelly' type sex
toys. And, because the exact long-term effects in humans are not known, many
adult toy manufacturers have ceased using phthalates.
Topco, which manufactures a number of Adam & Eve's Signature Toys, is now
advertising its products are phthalate-free, while Doc Johnson and
California Exotics are phasing the ingredient out.
"Within six months, Adam & Eve will no long offer any products containing
phthalates," says Adam & Eve President Phil Harvey. "Our main focus is, and
has always been, the customer and in light of this new information, phasing
our phthalates is the only answer."
Adam & Eve encourages other adult companies to follow suit. For more
information, or to speak with a representative of Adam & Eve on this topic,
please contact Adam & Eve Director of Public Relations Katy Zvolerin.