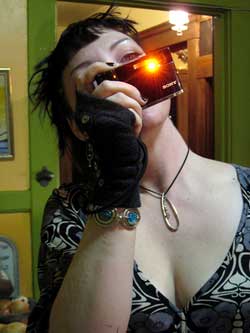 For this week's column, I went over the past year in news and blogs relating to sex, and came up with The Top Ten Sex Stories of 2006. There are different than sex memes, in that they were news stories that were developed and told — though a few were underreported, and I wanted to shine a little light on them. What struck me was that these important and interesting stories came form a variety of sources, from Rolling Stone to Boing Boing to Time Magazine — and yet, still Boing Boing isn't indexed by Google News, a news tool I use over a dozen times a day. Why?
Anyway, this is a very fun piece (OMG I got to say "hanky-flagging space sluts" in teh chronic) — it's my snapshot of a year in sex stories — snip:
"If the year in major sex stories were to be written like a Craigslist personal ad, it would sound something like this:
'Horny Einstein with HPV seeks a little Girls Gone Wild action in space. No sex toys, please, as they are toxic, but respond to this CL ad if you want to play Justice Department and get all up in my 2257, if domain names are your kink, and you love the Matrix but fantasize most about Neo's secret lingerie drawer. No griefers.'
(…)
4. Sex in Space
In space, no one can hear you masturbate. At least that was the theory tossed (ahem) about the Internet and in print this year, especially when Laura S. Woodmansee came out with the well-researched (and highly amusing) book Sex in Space. Aside from jokes about getting fluids out of your hair, the choreography of connection and not leaving condoms on the console, MSNBC's science writer Alan Boyle remarked that 'new devices and data would be required to hit the zero-g g-spot,' and zero-gravity veteran Xeni Jardin got a sex-positive microgravity post going on Boing Boing that garnered comments from pro-abstinence pseudo-Christians as well as hanky-flagging space sluts." Link.
(snapshot pic by Scott Beale)