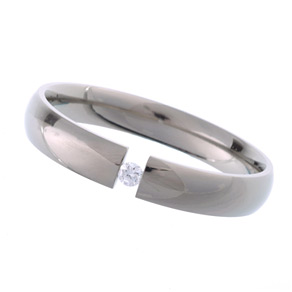 I'm calling it the first because I'm going to do several holiday shopping guides this year, and I'm seriously drooling on my keyboard right now over some of the goods to be found at Kiki de Montparnasse (eternal naughty thanks to David for the link).
Most of Kiki's stock is out of my reach, but if I were a rich girl… for instance, I'd love to play with the (pictured) solid silver Tension Set Cock-Ring with 5MM Cubic Zirconia. Think Make would laser-etch "Hacker Boy" on it for me if I asked really nicely? (We watched one of my favorite movies last night, it was *fun*!)
More on my Kiki LUST list:
* Glass is smooth, retains body heat divinely, and feels incredible. Ultimate lust: the $1750 Hand Sculpted Obsidian Glass Diletto.
* Every girl needs a $450 titanium vibrator for her space station of love (aka my bed).
* You could play dirty Clue with this one: it was Colonel Mustard, in the study, with the $750 Rose Quartz Anal Plug.
* Also, to wear at the machine shop, while blogging, or lazily taking control of that little planet by the sun — why, the $150 Frame Bra with the $395 black Layered Baybydoll, of course. Don't even get me started on which shoes I'd get…
* And because I have such a problem with my cupcake pink accessory fetish these days, I'd have to take really naughty pictures with the $425 frosting pink Panasonic Digital Camera. I think it's really honest to buy gadgets at sex toys stores — I mean, there's never any confusion in my mind that I have a fetish.
Kiki MUST list — if already shopping, I'd get these items too:
* Solid silver $15 X-Rated decision dice, includes 'bondage', yum.
* For the nipples, dear jeezus in a sparkly rubber thong, $15 Sauce L'Amour.
* Open a copy of my fellatio or cunnilingus books and road test my super-fun oral sex mint techniques with the $5 Before & After Mints.
* Massage candles are incredible — for massaging, teasing, tormenting, and giving out-of-control hand jobs. I'd love to try the $35 Kiki Massage Candle.
Le sigh! I could do a whole other list with Kiki's even more outrageous UK twin, Coco de Mer (sound alert), where my dream riding crop lives…