Archives
2/16 and 2/20/2003
I've learned HTML from a book as I've gone along, and this site is my first, so I had a nice morning when I woke up to a perky review from Jane's Guide and some nice ratings. It made me take a little stroll down tinynibbles.com memory lane.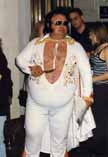 The good times (lots of praise from clever readers, interviews), bad times (too much wine, trying to update, and a denial of service attack on my server = a bad night) and the really bizarre (filthy propositions from Elvis impersonators). And my goals: more oral sex, lots of good porn to watch, a refrigerator full of gourmet cheese -- oh, and a web site full of thoughtful sex info. I've been trying to present sex and porn in a non-cheesy atmosphere, i.e., no New Age "this is stroking dewdrops of the passion lotus," or "goddess spot" crap, and no serious usage of terms like "a pop in the pooper," or "cum guzzling" (I hate the spelling, too). And no "nubs" -- no way, no how. What's a nub anyway?


But you can't be serious about sex, it's way too much fun. The faces, the noises. So I tweak my web site regularly, pinch its butt, chase it around the desk, make it file everything in the bottom drawer of the file cabinet when it wears a skirt to work, and try to make it -- and everybody reading -- blush rosy pink all over. I've been tinkering with ways to make it come up better in search engines, which is finally starting to work, but I admit that my secret guilty pleasure has been seeing how other people are finding Tiny Nibbles: their search parameters. So now, my guilty pleasure. I will share the latest words that get Tiny Nibbles rubbed by mouses all over the world -- and keep me fascinated about what's on people's minds.

A sample of Tiny Nibbles search strings:


Porn for Couples
Couples deserve good porn. Why is it so hard to find? I have two articles on couples and porn, and porn for couples, but it really depends on the couple. Much of the "couples porn" made by the porn industry is utter soft-focus garbage, because pornographers think that the addition of a woman to the porn viewership equation means that they have to water it down. Not necessarily true. So it makes sense that couples are looking for quality porn to watch together -- and I've got you covered in my next book.

Fellatio
Mmmm, I like to search for -- whoah, I mean wow, what a popular subject. What a great subject. What a firm, lengthy topic. Sigh.

Oral Sex
Now we're talkin'. These people are coming to the right place. Their credit is good here.

Rimming
Now, where in the heck does a fine upstanding red-blooded American girl find information about rimming? I mean, what a wholesome pastime. Back it on up!


Cunnilingus
I did write a book on cunnilingus, but my motivations weren't all altruism -- I wanted a dreamy, fantasy world where I got great head all the time, and all my girlfriends got great head all the time too. So, here's to the future, one tongue at a time.

Violet Blue
Now this makes sense. I live here. Though I bet that most of these horny searchers aren't looking for the tiny brunette sex writer machine arts mechanic motorcycle riding bookworm who likes red wine, chocolate croissants and coffee in the morning, horror films and popcorn, and big big pranks. No, they're probably looking for the blonde porn starlet who appeared around two years ago with the same name, and who is very very blonde and a closet hippie (ew!) and sucked off a big fake dragon in Whore of the Rings. They're probably disappointed. I am too. That dragon was so fake.

Tiny Sex
Hee. I love this one. But my girly hard-on for cuteness turned into a big floppy softie when I found out that "tiny sex" is a term for online sex, or "cybering." Not that cybering is bad, I've tried it and it was pretty fun anonymous sex, but I thought for sure that tiny sex was this. Or this. Or at least this.


Nibbles
What are you hoping to find when you search for nibbles? Is this a code for some cool weird sex thing involving marmots, molasses or sphincters that can chew gum? Can someone enlighten me?

Hymen Anatomy
Yikes. Okay, here's what I think. I think that this is being searched for by either: a) teens who have lost their virginity and are panicking and don't have a Planned Parenthood they can go to for answers; b) adult women who are experiencing pain during intercourse and are wondering if it's the remnants of their hymen (hymeneal tags, everyone with a vagina has them); or c) REALLY creepy guys and I don't even want to think about it. But how it leads to Tiny Nibbles, I don't know.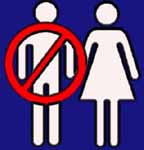 Lesbian Cunnilingus
Ah, the sublime contemplation of girl on girl porn. How dirty. After a serious spanking, they should be directed here.

Shaved Labia
Why stop with the labia? Shave the whole pussy.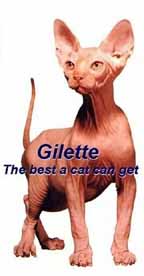 Boot Camp for the Female Ego (2/16)
Every month or so here in SF there is an informal get-together called Dorkbot where a small group of extremely smart computer geeks, machine makers and high tech artists gather to watch informal presentations by peers. It's where we all learn about new stuff and what each other are up to, and the loose tagline is "people doing strange things with electricity." I was a presenter once, and my topic with demonstrations was "Bizarre but True Tales of Sex and Electricity (with demonstration)." I did a lenghty Power Point presentation chronicling the birth of electricity and its immediate use to cure "hysteria" all the way to the modern vibrator, electricity and S/M and fantasy and fact about modern sex machines. Then a demo, with volunteers from the audience. It was a blast!
James Brown -- will the real sex machine please stand up?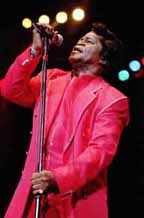 But I went to the last one and ended up walking out. Here is the text from an email I sent a friend about the evening:

"But you know, I didn't stay to see the (name withheld) thing -- I walked out when he was saying how hot chicks get when they "ride" his machines, and "how wet" the Dutch journalist got. Ugh! Oh -- I mean, what a man, that (name withheld). Plus it was after he couldn't tell me how his machines are controlled. I mean, I already knew (name withheld's) deal, that he doesn't make his stuff but uses it as a booty magnet. But that bullshit -- especially in such an enlightened room and atmosphere -- just made me realize that I was spending time listening to it when I really needed to dye my hair, you know?
Besides, I had to have perfect hair for this party I went to last night. I've always wanted to "pack." That's a queer term for when a woman (a dyke or a male FTM) wears a strap-on under her jeans. They usually use softies made of silicone to give the effect of having a man's bulge. But not me! I thought it would be fun to twist even that genderfuck, and so I went as a femmed up punk girl, and had a semi-hard big boy snaking down my leg. Shiny red lipstick, tight black jeans, dog collar -- firm dick! Way fun. I danced until four in the morning while the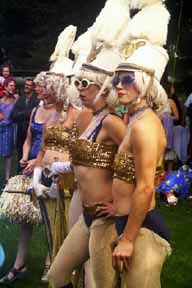 40-piece Extra Action Marching Band played in its entire Dionysian splendor. A full horn section, sexy, dirty flag girls (and boys) hanging from scaffolding... It was like being in a decadent scene in a Fellini film, all very sexual and La Dolce Vita.

So now I am hungover. But I had to end this email on a high sex-gender-queer positive note, being the Pollyanna of porn and all..."

His reply was: "now this is an email from my ol pal violet, not that cloistered pornwatchin ink stained wretch I haven't been hearing from for way way too long!"

So, it's weird when someone you know acts lame and says sexist stuff like the "artist" I mentioned above. It just reminded me of the creepy guys I saw at the Adult Video News Awards convention I attended in January. Not the pornographers -- though many were very smart and funny, some were extremely freaky (in a soulless way) -- I mean the "fans." It was intense to see literally hoards of guys pressing their cameras literally into women's asscracks when the women would bend over to pick up a pen. I took a lot of pictures of these guys, I was fascinated by them in the same way you slow down to look at a car crash. They didn't even notice me.
Okay, this mullet-head saw me.

I did have a lot of fun at AVN, though. I saw some amazing mullets.I saw people who were living caricatures of themselves in ways that Hollywood could never imitate. I wore my mechanic's clothes and talked to everyone. There were three gay men there, and they were very nice. I found a cool Tiki bar with no gambling in it. Harrah's charged me for my room three times and I'll never stay there again. I met a cool freaky extreme art pornographer named Joe Gallant, who is a big SRL fan.

My coworkers at Good Vibes from the video department were very rude to me. Bridgette Kerkove put her arm around me and her boobs are very hard. I hung out with the Real Doll people and their dolls a lot, and they (the humans) were funny and cool. They said that they make the dolls (out of silicone) in big human-sized boxes with lids -- like coffins (my words -- they concurred).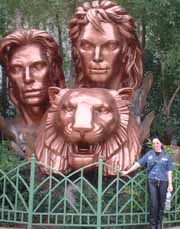 I stuck my fingers in many weird fake orifices and took pictures of other people doing the same thing -- and laughing. I met some big-timers, Juli Ashton kissed my sock monkey (insert your "touch my monkey" jokes here), and I met a lot of incredible and extremely smart women. By the same token, I met a lot of women who looked shell-shocked, had undergone freakish surgical alterations, and looked like they didn't want to be there. Boot camp for the female ego? Perhaps. I did a lot of research for the book I was finishing and had a glimpse of humanity that was the most interesting I've ever seen. I think porn isn't as simple as heroes or victims -- it's both, and more. Next year my publisher will want me to "make an appearance" because by then my book about porn will have been out for a while, but I think I'd rather just walk around and take interesting pictures.